We ran Clojurebridge in Sydney today. I was surprised by how well it turned out. I'm writing to capture the essence of this experience.
What ClojureBridge is Not
I've experienced several training courses paid by for by work. There is kind of a vibe on these that whilst you're keen to learn, you're also having a "day off" work – so there is lack of intensity about the day.
I've also been to a couple of training courses that I paid for myself. For these you're generally using your own annual leave, and have a sense of doubt (and/or suspicion) about whether the trainer is really up to scratch.
In both these situations – there is an sense of self-interest that just drags the day down.
Why ClojureBridge is Different
Clojurebridge today was different to this because everyone came out of interest in the subject matter, and in contributing to the day. It was a Saturday which had a sense of ease about it. Attendees had given up their personal time because they wanted to be there, but it lacked the commercial pressure of a paid-for course.
In addition the course materials and programme have a strong theme of inclusion, newbie-friendliness and gentle pace.
My experience – the people
Clojurebridge aims to be inclusive of women and minority groups. I honestly had absolutely no idea who would rock up.
I chatted with a merchant banker who was changing careers. There were uni-students keen to get into what functional programming was about. There were financial services types who had done a decade of OO on legacy platforms and were looking for something different. There were several people who had never done programming before and just had a computer and a web browser.
The most surprising thing was the couple-pattern. We had six couples rock up and spend the day programming together.
Everyone was really positive, willing to chat, share experiences and ideas.
My experience – the day
I rocked up to Thoughtworks in Sydney last night having worked through the training materials to do the 'night-before installfest'. (We forked the training materials to fix some typos, and also provide some explanation of the materials for people who only knew metric units and not imperial, and also to adapt the example questions from the US tax systems to the Australian GST system).
We welcomed everyone with cupcakes. These were consumed eagerly, there was no lazy semantics.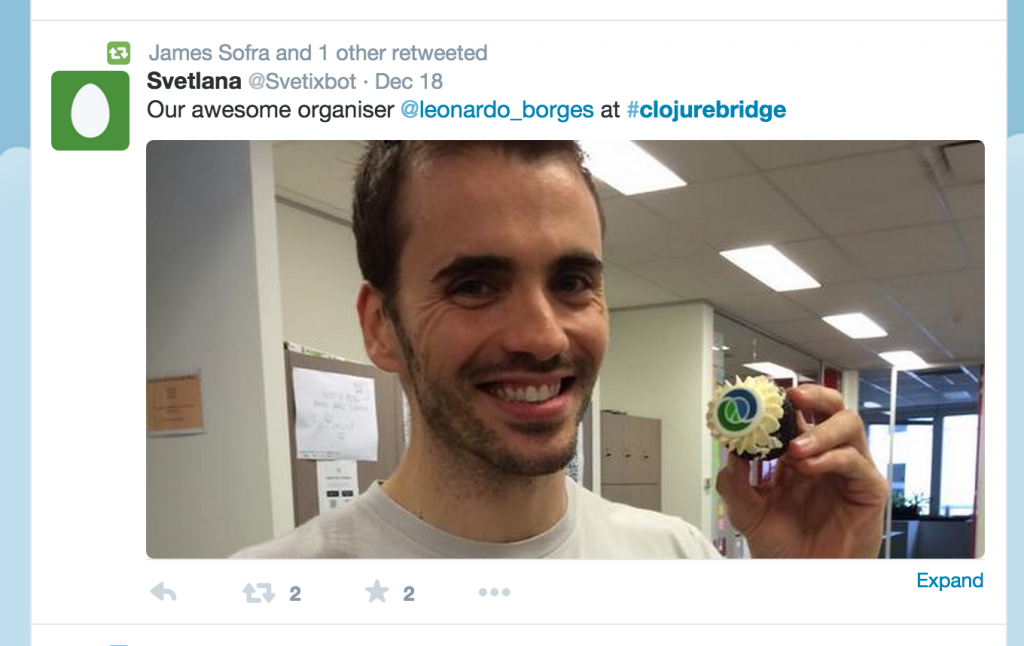 We spent the evening eating pizza, installing the JDK, Leiningen and Lighttable. (Interestingly enough the Windows machines proved the most problematic, and I am totally going to do a pull request to fix this). This was all done with a drink in the hand.
I helped install Leiningen on two Windows machines with a Polish language setting. It turns out if you squint until the writing goes fuzzy, then you can just rely on muscle memory and it all works the same!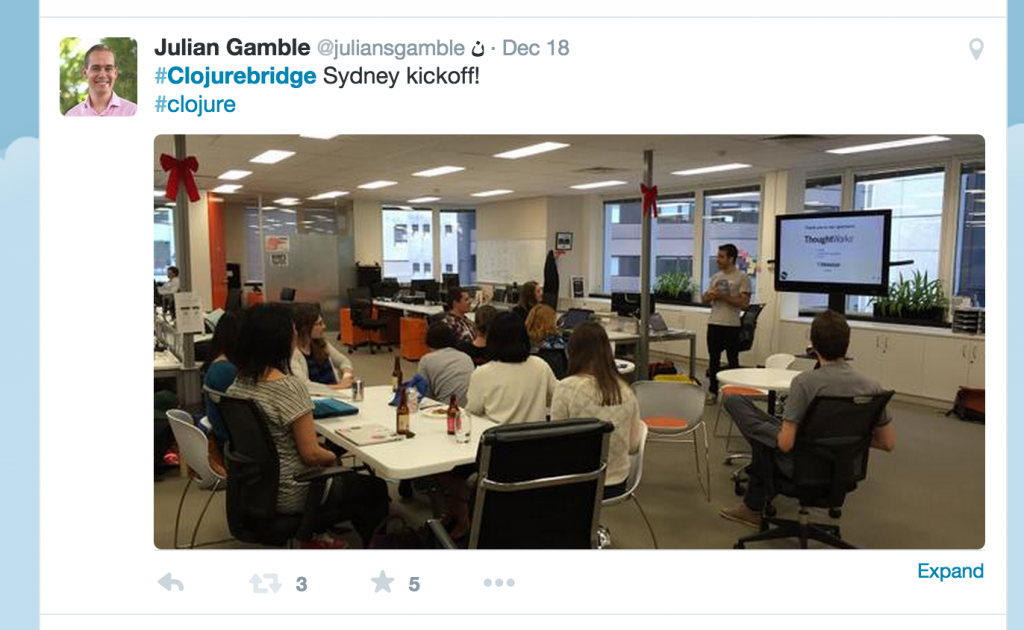 The following morning we welcomed people with muffins and coffee and got into it. The pattern of the material was to introduce a topic for 10-15 minutes, and then leave 40 mins for an exercise, and start again with the next topic. The mood was relaxed, with time for conversation.
Late morning we wandered out as a group down to Circular Quay and grabbed a coffee and it retained this relaxed social fun vibe.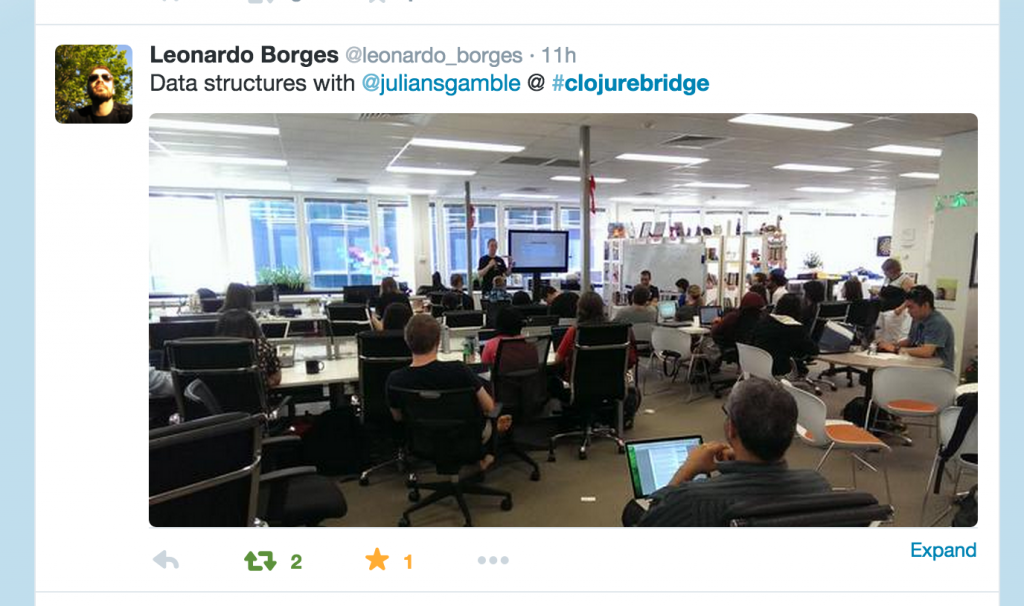 We finished the day having a drink and reflecting on the day.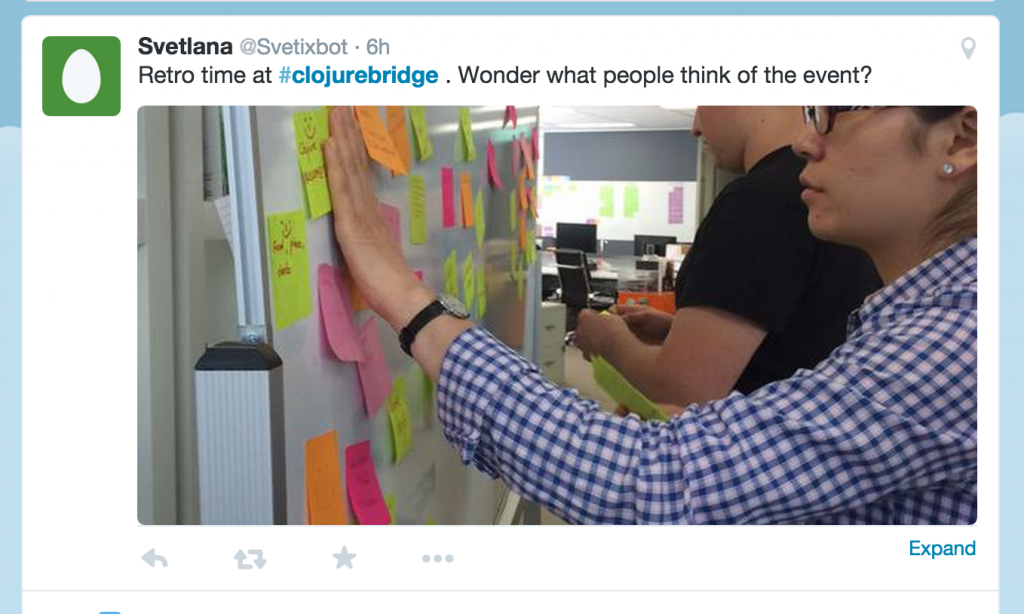 I left early for dinner with my family, but it sounds like the party rocked on into the night.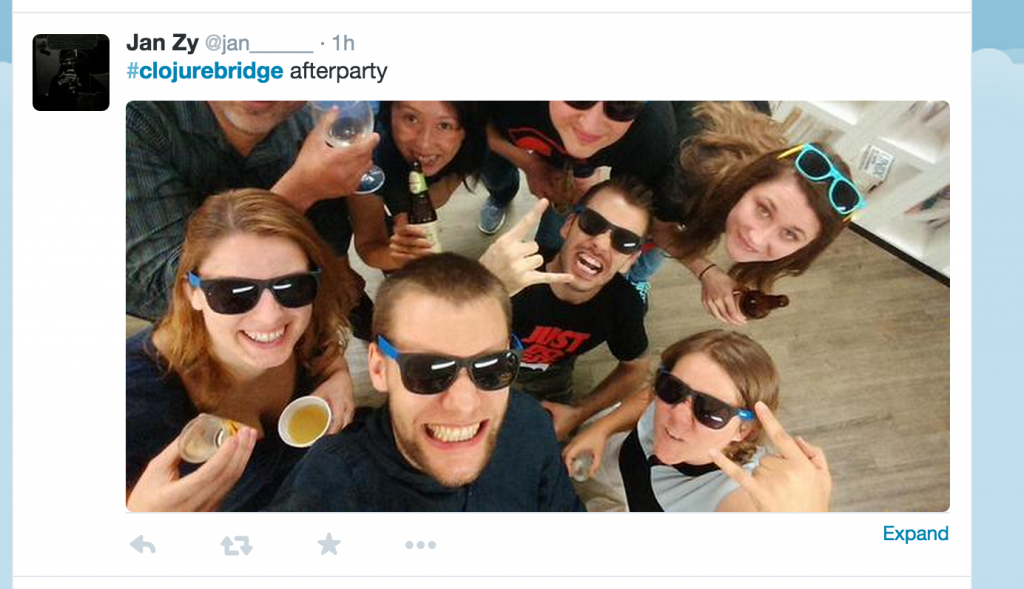 What is required from you
I won't say that if you rock up to a ClojureBridge as a trainer or attendee, you can kick-back and it will be all roses. It works because of what you bring to contribute, your curiosity, your energy, enthusiasm and willingness to learn. As a trainer it works because of your patience, your passion for the topic, your empathy, listening skills or just calm critical-thinking-skills working under pressure.
Conclusion
You should do this! It's so much fun.
(Did I mention I'm writing a book called Clojure Recipes?)